Empowering Leaders to Develop Their Own High-Performing Teams
Jun 02, 2022
"Many leaders across the company were looking to increase team engagement and find ways to support their teams in meeting goals. We were getting multiple requests for this type of team performance support, and we just didn't have the capacity to facilitate all of these teams."
Devon Twyford
Leadership & Organization Developer, Humana
We worked with Devon Twyford at Humana to address the challenges she and the organization faced around teaming. Through a combination of training and a customized internal website that includes best practices, the team at Humana was able to facilitate the installation of The Grove's Team Performance System. This provides a comprehensive teaming solution with a holistic approach. She recently discussed this journey with us.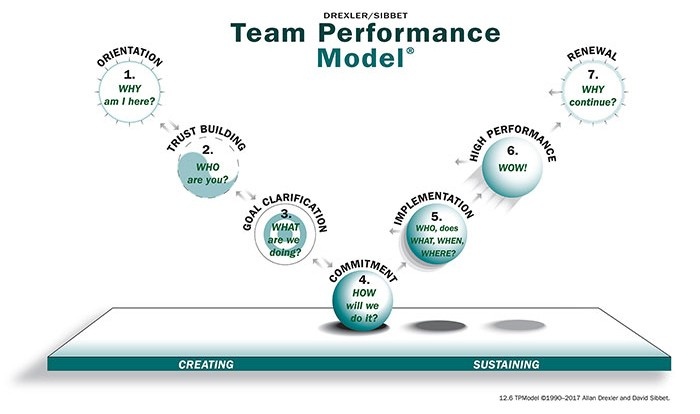 The Challenge
At the beginning of our journey, we knew that we likely had several different team development models in use across the enterprise. But imagine our surprise when our initial analysis revealed we were using more than 20 different team development models! We chose The Grove's Team Performance System because it most aligned with our culture, especially the stages of Trust Building, Implementation, and Renewal in the Drexler/Sibbet Team Performance Model®.
The Team Performance System provided a holistic solution that would enable us to embed a consistent understanding of teaming into the organization. We also knew that the more embedded the Model became, the better able our leaders would be to use it independently without facilitation support. Many leaders across the company were looking to increase team engagement and find ways to support their teams in meeting goals. We were getting multiple requests for this type of team performance support, and we just didn't have the capacity to facilitate all of these teams.
We knew we had to be very careful about the way we went about implementation. We didn't want this to seem like an HR-driven initiative since teaming is not something you can delegate. Humana's expectation is that our leaders should be intentional about building a high-performing team. There are resources to support them, but the accountability for their team's success begins and ends with them.
The Solution
We took a change-management approach to our implementation by first building a steering committee of key influencers. These were either leaders who were invested in the process because they had a stake in its success, senior leaders who had accountability for large segments of the organization or people who would advocate for us. We knew that if we could bring these folks along with us—have them experience the Model, methods, and best practices—they would be more likely to adopt that change and help us sell it.
The Grove trained a cadre of our leadership and OD practitioners, so we had a skilled group of internal subject-matter experts. We piloted the program with several teams in the organization over about 12 months. With each team, we used the Team Performance Survey assessment tool to determine where leaders wanted to focus their efforts and supported them by using several of the associated best practices. The Grove's visual tools supported the application of the best practices. It also enabled us to "train the trainer" as teams and leaders were able to see the tools applied in real time. The Graphic Gameplan was a huge hit with these pilot teams. To this day it remains one of the most requested tools across the enterprise! In the end, we were able to build interest and experience with the Model, website, and Survey with our pilot teams so that those leaders and teams could advocate for it.
The Outcome
Our vision from the beginning was for every single leader to be aware of the Model, aware of the website, and comfortable facilitating his or her team. Most importantly, however, is that they've internalized it. The Model, with its rigor, tools and best practices, has allowed our leaders to catch on quickly and easily. We haven't reached internalization across our entire leadership population, but we've certainly taken ground! And our core team would tell you that while we've worked with other models and methodologies, the Team Performance Model ranks among the top.
Devon's Story
Personally, I've always been passionate about organizational learning. The first decade of my career was spent working in a small community bank where organizational learning was a faraway thought. We built a thriving training and development function and a few other elements of a learning culture. It was extremely gratifying, but we never reached a mature learning organization. I realized that by working for a larger, more mature company, I could learn and experience even more. That's been the case in my experience at Humana. What's more, as an adjunct faculty member, I am able to bring my experience into the classroom and influence the next generation of LD/OD professionals who may not have the opportunity to work in organizations such as Humana.
---
Interested in learning about Team Performance? Download our Free Quick Start Guide and read an excerpt from our new and revised Team Leader Guide (not yet released!) and a best practice tied to the Team Performance Model.