Pathways Through Change Workshop
Unleashing Your Generative Power

IN-PERSON | Three days | Portland, OR

$1,900
$1,710 Early Bird Price through April 16, 2023
Nonprofit Discount*
$1,520
$1,368 With Early Bird through April 16, 2023

June 27-29 | 9:00am–5:00pm PT

Register
"As a change leader, it is my role to create structures (or crucibles) that allow people to transform whatever energy they bring to a change from one state to the next on their way to acceptance. When using the Liminal Pathways Change Framework, people no longer need to be managed through a change, but instead, are given the scaffolding to make their own way."
Sr. Leader in Research & Education, San Francisco, CA
Overview
Are you challenged by changes in your professional, organizational or community life? Would you like to grow your capacity to guide and support yourself and others through their transitions?
With over 30 years of professional exploration of pathways through change, Gisela Wendling, Ph.D., has evolved a successful methodology and framework for working with transformational processes. Hundreds of people are now using the Wendling Liminal Pathways Change Framework™ (LPCF) in their practice. A recently-concluded study of its efficacy demonstrates its important instrumental and psychological value for working with the most challenging aspects of designing and leading change.
In this three-day workshop, you will explore how to move through ambiguity and not-knowing, tap into your transformational agency and find individual and organizational renewal during times of great upheaval. Along with the other participants, you will consider change situations that are volitional and planned and those that may feel beyond your control. You will discover for yourself new ways to orient to uncertainty, tap into generativity, envision possibilities, connect to your personal pathway for a more promising future and learn to support other individuals, groups and organizations to develop their own.
Each participant is invited to bring a change challenge to ground the learning in this workshop in real-time situations. Coming together in person with a select group of other change practitioners allows everyone to experience deep learning through well-facilitated explorations of ideas, cases, practices and each other's change challenges.
Each participant will receive a free copy of the just-published Liminal Pathway Study, Visual Consulting: Designing & Leading Change, a Liminal Pathways workbook and additional handouts.
This Course Is for You If:
You are an executive or leader guiding an organization through change.

You are a manager leading a team or responsible for implementing change.

You are a facilitator or organizational consultant supporting clients through change.

You are a coach companioning individuals through their change challenges.
Learning Objectives:
Learn to apply the LPCF and related practices to various contexts and why change agents find it so helpful.

Explore a professional or personal change challenge you are experiencing in your professional or personal life through the lens of this change framework and how you might design an inspiring pathway through it.

Discover the paradox of completing and integrating change processes during unstable times.

Let go of outmoded habits and embrace the catalytic potential of the in-between by practicing ritual-like activities.

Develop your capacity to design, embrace and guide change for others.

Join a wonderful cohort of colleagues and feel supported by the insights and community that emerge.

Learn about and practice ritual-like activities that can assist in more fully separating from the past, habits, and practices that are no longer helpful to embrace the catalytic potential of the in-between.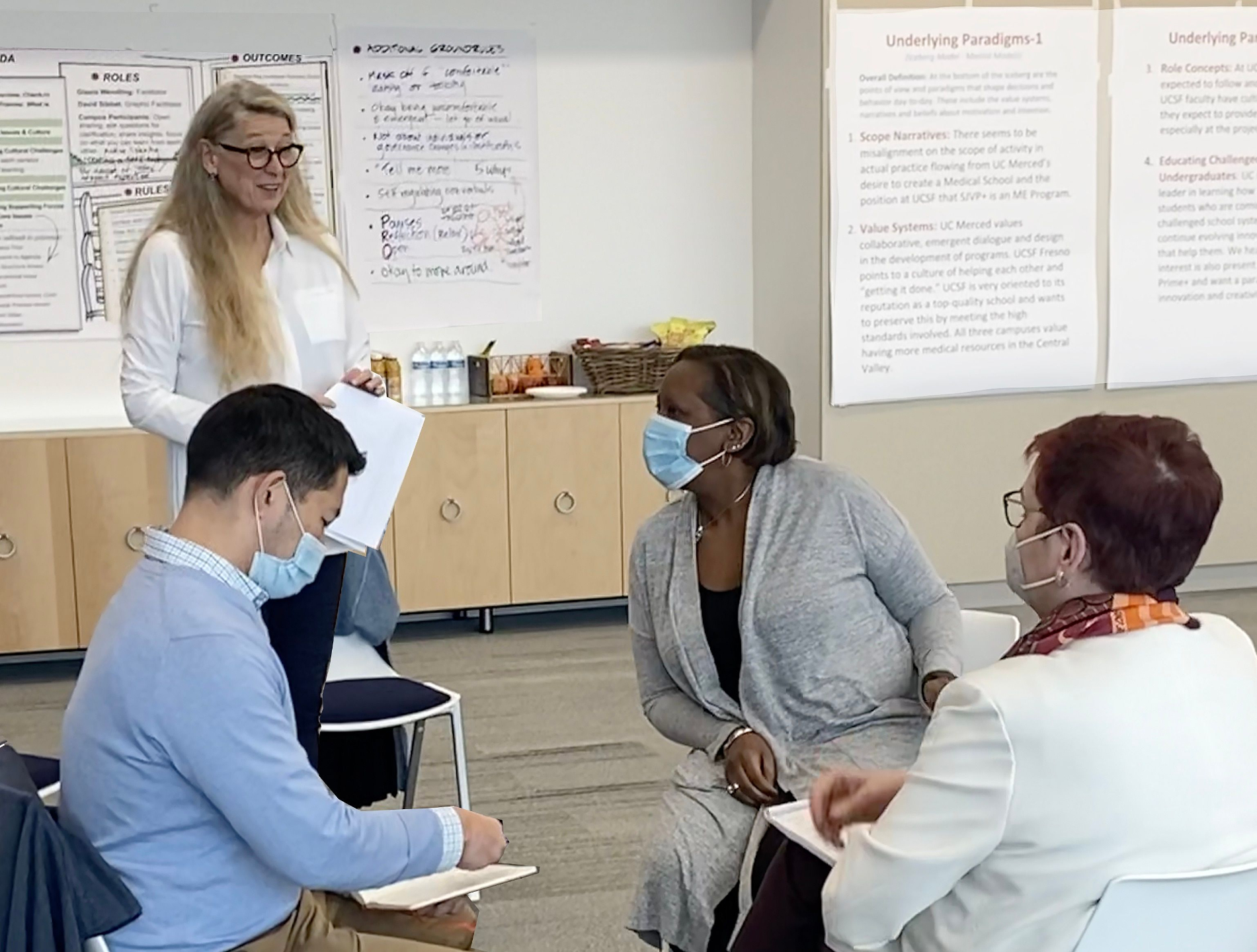 Workshop Leader & Developer of the LPCF
Gisela Wendling, Ph.D., Educator, Psychologist, Sr. Consultant with The Grove Consultants International, and Co-director of the GLEN (Global Learning & Exchange Network), will be your guide. In 2018, she co-authored Visual Consulting: Designing & Leading Change with her husband and professional partner, David Sibbet. Currently, Gisela is publishing her research on the efficacy of the LPCF, which will be the foundation for a book on the same topic.
With over 30 years of professional experience, Gisela has cultivated a consulting practice that supports visionary leaders and their organizations to embrace new futures and navigate the generative and challenging tensions inherent in change. Her passion for developing change leaders and practitioners includes directing the Masters in Organization Development (OD) at Sonoma State University, teaching at Meridian University and offering a range of immersive programs. Her approach integrates her foundation in OD with insights from her doctoral research into transformational processes and field experiences with traditional peoples and their rites of change practices across four continents. Gisela was born and raised in Germany, and has been living on the West Coast of the US for over 30 years. She lives in the San Francisco Bay Area.
"The session was beautifully facilitated, thought-provoking, and insightful. Gisela created a safe and generative environment, sensed the needs of the group, and fostered both reflection and conversation. It was a great co-learning opportunity."
Cristina Barradas
Coach & Mentor
"The Grove's frameworks are so powerful and practical. Gisela and the other workshop leaders are top-notch."
Cindy Stellar
Integrative Health Coach
"The Liminal Pathways Change Framework melds theory and practice with deep knowledge about rites of passage and ancient wisdom. This can now be used easily in business contexts.
Sr. Organization Development Practitioner
About the Venue:
Workshop will take place at OPAL 28, an elegant and creative meeting venue in a friendly and vibrant Eastside Portland neighborhood.

Continental breakfast, lunch and morning and afternoon tea/coffee provided.
* If you work at a nonprofit or government entity we would like to offer you a discount. Please submit your information, and we will send you a discount code.
Registration & Payment FAQs

What is your payment policy? Can I pay by check?
What is your cancellation policy?
Can I register more than one person? Do you offer group discounts?
Questions about our courses, or interested in organizing a course for your workplace?
Email us at c[email protected] or fill out the form below.