Liminal Pathways Change Framework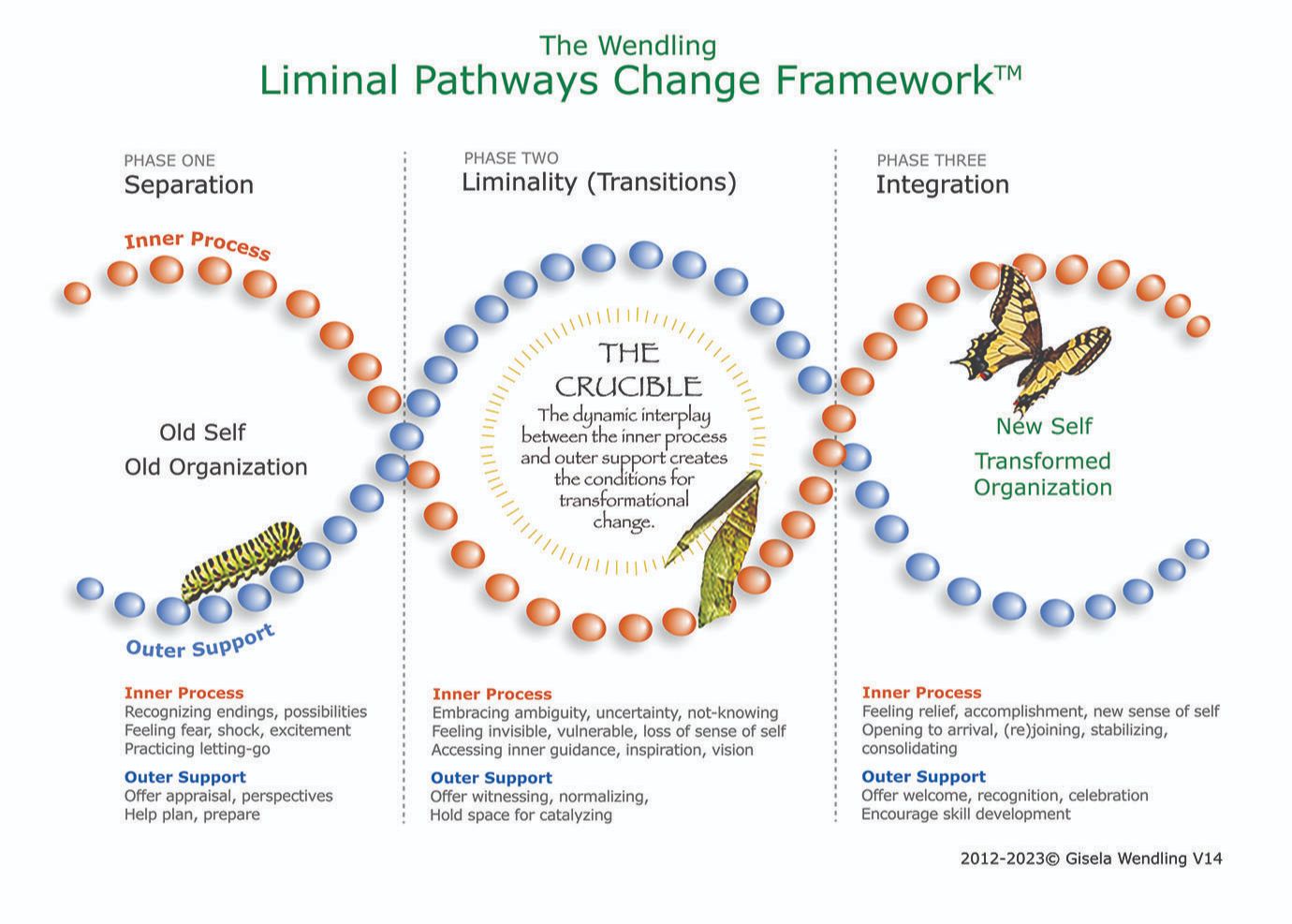 A Guide to Navigating the Basic Patterns of Change
The Wendling Liminal Pathways Change Framework™ (LPF), developed by Gisela Wendling, Ph.D., illustrates the three basic phases of change, the dynamic interplay between the inner process of going through a change and the outer support that helps guide and bring a change to completion. The word liminal comes from the Latin and means threshold. It highlights that change is a process of crossing threshold from the old to the new.

This framework is universally applicable across human systems—from individuals, to organizations, communities, and even larger social systems. It helps clients to develop shared language about change, normalize the ambiguity and serve as a quick assessment tool or template for designing change.
Announcing
The Liminal Pathways Study
By Gisela Wendling, Ph.D.
The Liminal Pathways Study explores the efficacy of the Wendling Liminal Pathways Change Framework and how the idea of the liminal opens new ways to understand, assess and practice transformational change.
You will learn:
the essential distinctions and insights regarding how people experience and move through transformative processes
the central role of inner processes as transformational catalysts
how working with affect can allow people to become vessels for positive futures
By combining participants' stories, theory and practice, this book paints a full picture of what really goes on with change, and helps you evolve your own mental models and approaches. It is written for curious practitioners, experienced change leaders and those new to change work.
Learn More
Learn More About Our Work In:

Leading Transformational Change Services
We go beyond strategy to guide organizations through the complete cycle of change. The Grove helps stakeholders from across an organization make sense of complexities and uncertainties that any organizational shift brings.
More About Transformational Change
Learn to Apply Liminal Pathways Framework in Our Course: 
Pathways Through Change
In this three-day workshop, you will explore how to move through ambiguity and not-knowing, tap into your transformational agency and find individual and organizational renewal during times of great upheaval. 
More About This Course
Praise for the Liminal Pathways Framework
"The framework expanded the way I think about change—instead of focusing only on before and after, I now better understand the complexity and the space and time it takes for change to happen."
Project manager for a public-services organization, U.S.
"What I appreciate about the LPF is the constant dance between outer support and inner process. This gives leaders an understanding of how important it is not only to manage the change, set goals and brainstorm possibilities, but also how rituals can support the inner work that is needed. It is related to the human spirit at work or in life. It is about really hearing people, being mindful together, and to co-sense and co-create the new together."
Organization development consultant and executive coach, Poland
"Having the inner process named was powerful for me. I'd already worked with Kotter, U Theory and Appreciative Inquiry; the inner process description in Liminal Pathways feels more complete."
Strategy and DEI consultant, U.S.
Interested in Learning More About Liminal Pathways?